Powering a meeting revolution in Cisco's EMEA region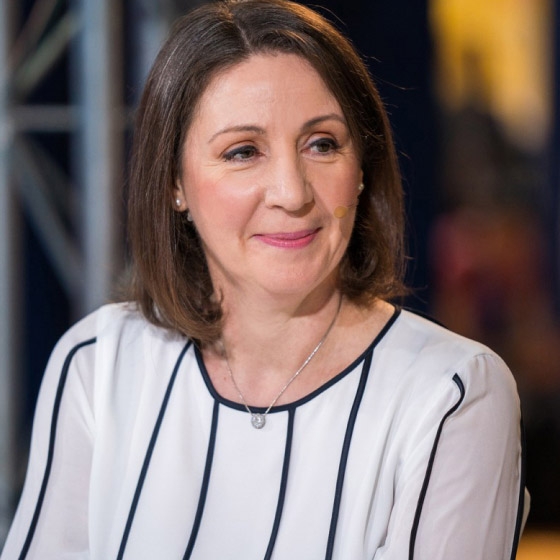 Cisco is one of the largest technology players in the world with over 80,000 employees. Its global networking and telecommunications solutions are at the forefront of hybrid work, focusing on powering an inclusive future for all.
When exploring the new, flexible ways of working, Aaron Williams and Helen Saunders, communication experts from Cisco's EMEA Communications team, saw an opportunity to radically change how they engage with their 25,000 employees in the region.
In this story, Aaron and Helen share how Slido helped them set a new standard for hybrid meetings across Cisco EMEA with a phenomenal 1460% increase in their event survey responses.
From broadcasts to conversations
During the height of COVID-19, we were having weekly all-company, as well as a team and functional meetings with employees. But we eventually saw that this led to meeting burnout among employees because there was so much of it, and the emphasis tended to be on broadcast rather than interaction, begins Helen.
In October 2021, when the time came for Aaron and Helen to organize EMEA Pulse, the region's quarterly all-hands event, they were determined to make a change. We were ready to shake up the formal nature of the meetings, to make them more conversational and more interactive, with a clear agenda and action items, Aaron tells us.
A meeting revolution instead of a meeting evolution
Having used Slido previously, the team was immediately drawn to Slido's possibilities to facilitate a meaningful conversation between the leadership and employees. Wendy Mars, the President of Cisco EMEA, wanted a meeting revolution instead of an evolution and she categorically did not want to present AT these people, Aaron shares.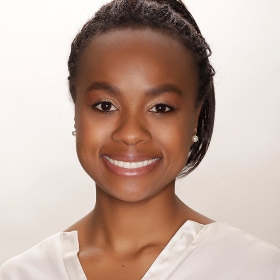 To explore the full potential of using Slido for the Cisco EMEA Pulse, Aaron and Helen met up with the Slido team to define what they wanted to accomplish with the event.
We decided to run a pre-event survey across the region to understand what our employees wanted to hear and use those responses to create the event agenda. We also decided to create a specific 'Wendy hot seat' segment to answer some of the burning questions we received, says Aaron.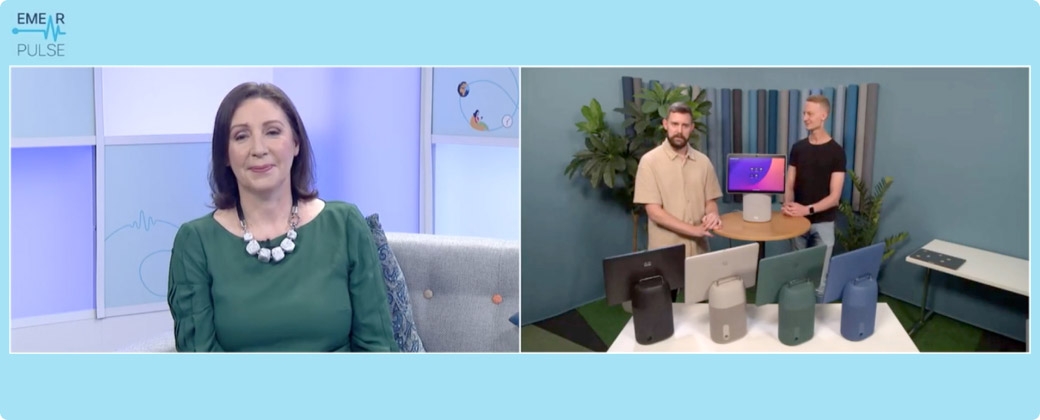 We selected the speakers for the event based on people's responses to the pre-event survey and we've never done that before, Helen shares. For the sake of transparency, we did not filter the questions that came. Wendy was happy to answer even the most difficult questions on the spot. The transparency and the ability to go unfiltered is powerful!
Being able to tag the questions helped the communications team greatly when structuring the Q&A, especially for the "hot seat" segment. The post-event analytics was so much easier to work with and acted as a measurable result of the engagement, Aaron adds, reflecting on their former survey formats with cumbersome data..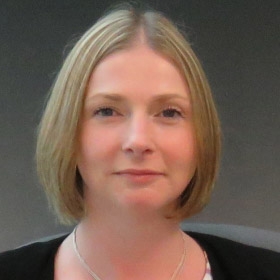 Setting a new standard for meetings
When holding an all-hands for a region with over 25,000 employees, it's never easy to have a hard target on employee engagement percentage. But Aaron and Helen saw a whopping 43% increase in their employee attendance.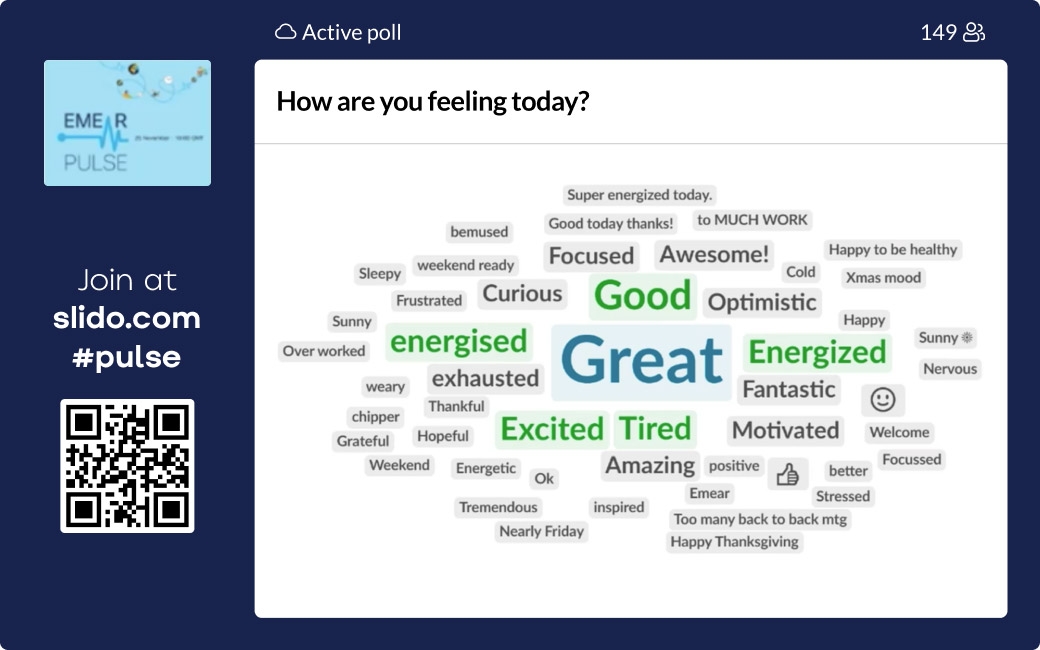 We had over 984 responses just from the pre-event survey alone and nearly 50% of the participants actively took part in the polls and Q&A. We also had a 1460% increase in our event survey responses, which is just phenomenal. Our people truly appreciated the format, interaction, and energy of the event. They felt included! shares the duo.
Thanks to their success, the larger EMEA region is now witnessing a trickle-down effect where more VPs and leaders are embracing Slido. It's the way to bring people in, in this hybrid world, says Aaron.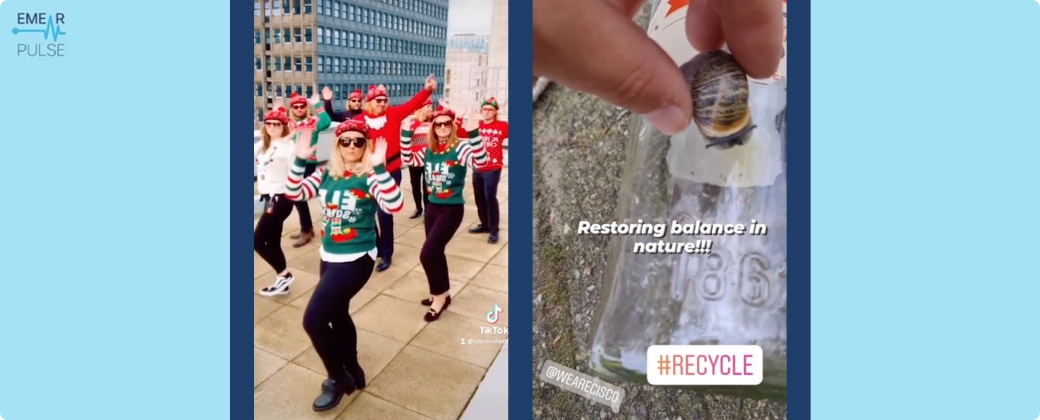 We couldn't have done it without Slido. It allowed us to create informed content before, during, and after the meeting, allowing us to transform EMEA Pulse from being just another business update broadcast to a true conversation between the leadership team and the employees. It has set a new standard on how to run meetings, reiterates Helen, as they continue to evolve their event formats with Slido.
Top 3 benefits of using Slido
1. Transparent and meaningful communication
Slido enabled our leader Wendy to truly have a transparent, meaningful conversation with our audience.
2. Inclusive and flexible
We were able to include people anonymously and with names, and provide the flexibility to join from any device, from anywhere.
3. Focus on audience
Slido enabled us to really focus on our employees and bring them in.
Make your meetings more
interactive with Slido.