How Bitkub is driving engagement securely with Slido
Driving financial transformation is front and center of Bitkub, a Thailand-based digital asset trading platform. As part of its mission to democratize financial privilege for everyone, Bitkub leverages technologies like blockchain and cryptocurrency to create a financially inclusive world. One of the largest cryptocurrency exchanges in Thailand, Bitkub recently achieved unicorn status.
Being remote-first, the company has employees working in a distributed setup. In this story, Bitkub's Founder and Group CEO, Topp – Jirayut Srupsrisopa joins us to share how Slido is helping them make their meetings more engaging and secure at the same time.
A hard commitment to security
Operating within a distributed model, Bitkub's People team is tasked with driving employee engagement and enhancing internal communications. While Slack serves as the heart of their business-as-usual communications, their meetings still had some untapped engagement potential.
However, working as part of a financial organization, the team needs to be extremely thorough while creating employee engagement strategies, especially with the security standards of the tools they use.
Security is a significant matter for us, especially participant privacy and verification for participants. We want to make sure all the participants can access our meetings while also maintaining the confidentiality of information, begins Topp – Jirayut Srupsrisopa.
When searching for a secure engagement solution that matches their requirements, Bitkub came across Slido.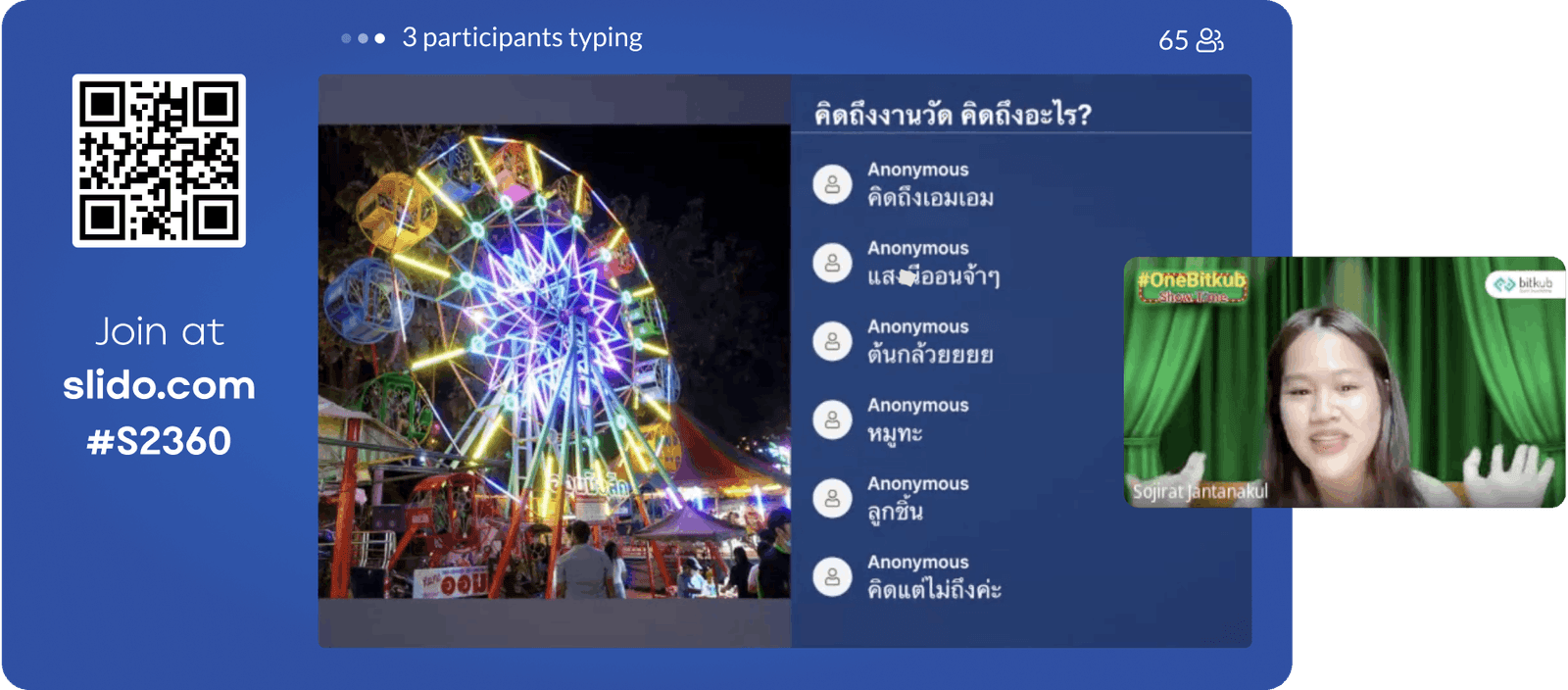 Building engagement slowly and steadily
For most Slido users, product adoption starts with all-hands meetings. For Bitkub, it was quite the opposite. We started using Slido polls and Q&A for small operations-specific meetings and team meetings. Our usage slowly grew to large meetings over time. Meeting passcodes, QR codes and participant email verification are some of Bitkub's most used Slido features at the moment, enabling them to maintain the highest security standards during their live meeting interactions, he elaborates.
As their use cases evolved, Bitkub's People team started creating interesting polls and quizzes to increase engagement during all-hands meetings.
The People team uses Slido to ask fun questions as well as collect feedback from employees. Slido also helps us conduct more effective Q&As during live meetings. We use moderation as needed but make sure that no question is left unanswered.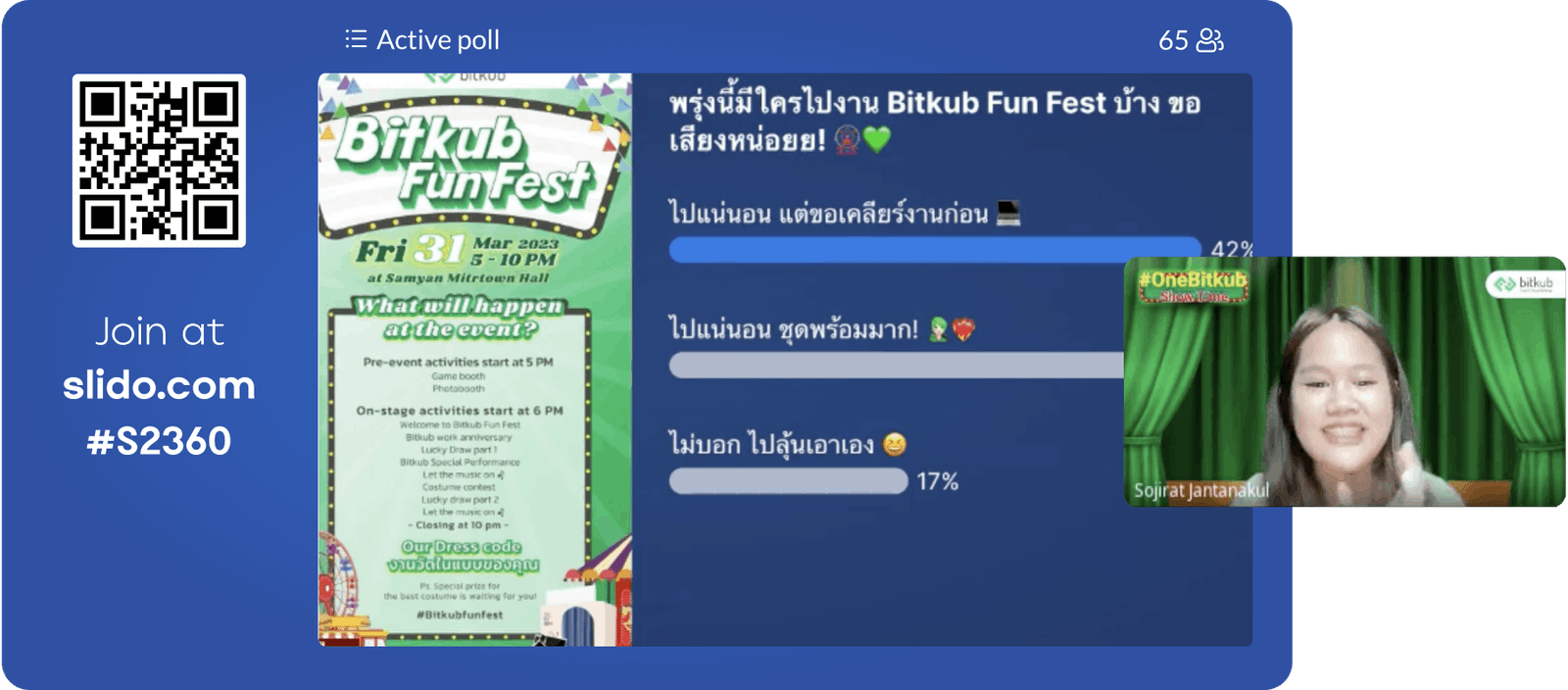 Employee communications made easy
Having Q&A, polls and surveys in one platform is one of the biggest pluses for Slido as far as Bitkub is concerned.
Slido is a wonderful channel to communicate with and engage our employees. We find the tool quite friendly and easy to use, Topp – Jirayut shares, adding that he also sees a huge potential for Slido at external Q&As that are often held as part of their client events.
As one of the frontrunners of cryptocurrency and blockchain conversations in Thailand, Bitkub teams are also looking to use Slido in their training academy initiatives focused on improving financial literacy among youngsters.
Top 3 benefits of using Slido
1. Impactful engagement
Improved participant interaction in activities and meetings enabling us to successfully run virtual meetings involving 500+ participants.
2. Two-way communication
As a remote-first company, Slido helped us facilitate better two-way communication between employees and the company.
3. Security
Features like participant privacy and email verification help us to effectively maintain confidentiality of information at our meetings.
Make your meetings more
interactive with Slido.